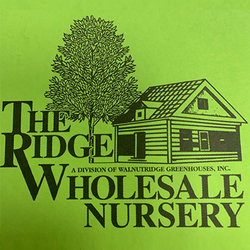 Wholesale Nursery Manager
Evansville, IN
Ridge Wholesale Nursery, a 100 year old family business, is looking for a strong, self motivated leader to replace a retiring manager at our Evansville Nursery location.

Current nursery manager will remain on staff and help train his successor to run this already well established, well organized, and successful nursery operation. This is a great opportunity for someone who has experience in landscape plant knowledge and is looking to further their career.

COMPETITIVE PAY:
• Salary plus commission (will pay more for experience)

• 5 or more years managerial experience leading a 5 to 10 member team
• Some landscape plant knowledge experience required
• Ability to work well with others & have a team building leader attitude
• Excellent communication, interpersonal, leadership, coaching, and conflict resolution skills
• Must be able to work outside all season
• Must be Lift up to 50lbs
• Ability to operate a register as well as computer skills
• This is a full time position, with seasonal demands in the peek growing seasons. Hours will vary. Must be willing to work as needed.

• Nursery purchasing, inventory control
• Selling and merchandising plants and mulches
• Customer building
• Work with positive attitude
• Overseeing the business office transactions
• Hiring and employee scheduling
• Plant care and maintenance

Apply with us today for consideration. Only those who submit a resume will be considered for this position. Complete the quick apply form above and make sure to attach your most up to date resume.

We look forward to hearing from you!

19441